ARTCTC Fort Pierce Staff
Dorothy Bulgin, RN, ARNP – MPH, ARTCTC South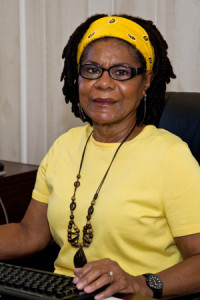 Dorothy, Jamaican by birth, left the nest at 18, flew to New York and sailed across the Atlantic to South Hampton, England. At St. Luke's Hospital, Bradford, Yorkshire, England, she completed her training to become a nurse, midwife, and a Queens nurse. Dorothy returned to the US in 1972 and earned her Bachelor of Science degree from St. Joseph's College, Brooklyn, NY and her Master's in Public Health from Columbia Presbyterian University. Her early years were spent in midwifery in England and New York. She is a holistic practitioner who believes that in order to achieve wellness, one must utilize the physical, psychological and spiritual approach to healthcare. She became interested in HIV/AIDS in 1987 and felt she found her niche and eventually started a clinic to treat HIV/AIDS patients in Texas until 1991. She has been with ARTCTC since 1995 and feels that this has been a most satisfying and wonderful learning experience in her life. She loves life and wellness. She also loves to travel, is owned by two great dogs, lovebirds and goldfish. She enjoys crafts, collects Wedgewood, and loves All God's Children statues.
Claudette Johns, RN-BSN - Office Administrator, ARTCTC South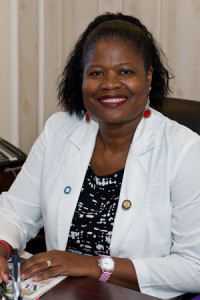 Claudette, Jamaican by birth, moved to the United States in 1978, completed her high school education and became a US citizen in 1981. She has earned two Associates Degrees and a Bachelor of Science in Nursing from Indian River State College. Claudette has worked as an RN at ARTCTC since 2003 and was promoted to administrator in 2004. Her tasks are numerous and varied including working closely with patients, staff, and related healthcare providers as well as executives within ARTCTC and the governing board to keep the daily operations running smoothly. Claudette adapts to her ever-changing responsibilities with confidence and efficiency. She is currently an adjunct nursing instructor for Indian River State College LPN and Nursing Assistant programs while continuing in Florida Atlantic University Master's Degree Program leading to her expected graduation in 2015 as a Family Nurse Practitioner. Claudette is married with two children, one grandchild, and a cat. She and her husband volunteer with the local little league baseball program providing safety education and sports physicals. She is also active in her church and volunteers for numerous activities, including participating in the Martin Luther King Holiday celebrations in St. Lucie County.
Cynthia Cooper, MA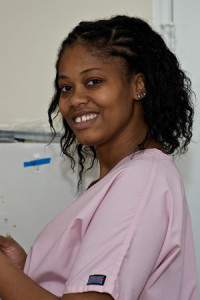 Cynthia is a lifelong resident of St. Lucie County. She graduated from Lincoln Park Academy in Ft. Pierce and completed her Nursing Assistant and Phlebotomy training at Indian River State College. She obtained her training as a Medical Assistant under the tutelage of Dr. Howard Tee, where she was employed for six years. She gained primary care experience working with Dr. Atamer at Primary Care of the Treasure Coast in Vero Beach. When the opportunity presented itself for career advancement, she did not hesitate and joined the ARTCTC team in August 2011. She has gained certification as a Medical Case Manager and HIV Counselor and Tester. She fully embraces the Medical Assistant role in the clinic and has developed a great rapport with the patients as well as other staff members. Cynthia is married and she and her husband are proud parents of a cat Alexis and a dog Piccolo.
Lisa Hudson – Front Office Coordinator, ARTCTC South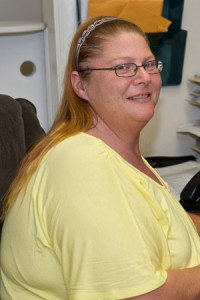 Lisa was born in Muncie, Indiana, and moved to Florida in 1981. She is a Certified Nursing Assistant and has attained her HIV/AIDS 500/501 Counseling and Testing Certificate. Her duties as receptionist at ARTCTC include answering the telephone, scheduling appointments for patients, securing referral appointments to specialists, and scheduling outside tests. Lisa is also responsible for the scanning and indexing of medical patient information into the office Electronic Medical Record program and she has been an integral part of ARTCTC South for over eight years. Her prior work experience includes employment in a nursing home, with a home health agency, a cardiologist's office and with a local answering service. Ms. Hudson has two grown step-sons and is currently raising three nieces and two nephews who keep her very busy with various school activities. She has three cats and enjoys reading when she has some quiet time.
Mirna Perez – Front Office Coordinator, ARTCTC South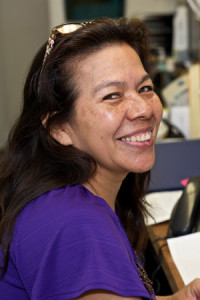 Born in Guatemala, Mirna came to the United States in 1986. One of Ms. Perez's proudest accomplishments was becoming a citizen of the United States on August 13, 2007. She has worked for ARTCTC since January 2001 as our bilingual medical assistant and interpreter. She is a real team player and assists in many other front and back office tasks. She conducts pre and post-test counseling for those coming for HIV testing. She holds certification in the 500/501 Class for Pre-and-Post Test Counseling and Testing and a certificate in the Concepts of Phlebotomy and Medical Laboratory Technology. She has two sons and a daughter, three grandsons and one granddaughter. Besides playing with her grandchildren, she enjoys reading and playing with her dog, Mia. She has frequently fed, clothed or offered assistance to patients and others she has met through the clinic. She has even shipped a washing machine and stove, along with clothing and shoes, to her hometown in Guatemala. She is a true, compassionate caregiver.
Kisha Johnson, Insurance Biller/Coder, ARTCTC South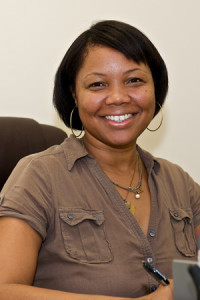 Kisha is a native Floridian, born and raised right here in Fort Pierce, Florida. She attended Westwood High School and Florida A & M University, graduating with a Bachelor's degree in Health Information Management. Her prior work history includes medical billing and coding, case management for HIV/AIDS Clients, Parent Educator, and supervisor of a HIV/AIDS outreach testing program. Kisha joined the ARTCTC in Fort Pierce in July 2012. She is in the billing department and efficiently oversees all accounts receivable. Her goal is to eventually achieve a Master's Degree in either Healthcare Administration or Public Health. Kisha is the proud mom of two beautiful daughters. They keep her busy and "on the go" with activities such as cheerleading and Tai Kwon Do. She is their number one fan. Kisha loves spending time with family and friends, traveling and seeing new places. Listening to music is her way to relax and unwind after a busy day.
Roberto Martinez Phlebotomist / Lab Tech, ARTCTC South
Rob is the full-time certified phlebotomist at the ARTCTC South office in Fort Pierce. Born in Bronx, NY, he moved to Florida in the early 1990's with his mother and his siblings. He served as a volunteer with the St Lucie County Fire District during high school and for several years after graduation. It was this experience that sparked his interest in a career in the medical healthcare field. His work experience includes private ambulance service driver while he attended school to become a licensed emergency medical technician (EMT) in 2005. Rob served the community until the fall of 2008 when he was hired by the St Lucie County Health Department as a PCT/ Phlebotomist. He found himself seeking employment in 2012 after budget cuts forced his unexpected lay-off. Luckily ARTCTC hired Rob and he has become a competent, loyal and diligent member of the St Lucie County team. During his time off Rob enjoys listening to / playing music, exercising, and watching / collecting movies.