ARTCTC Vero Beach Staff
Chandra Kantor, ARNP, ARTCTC North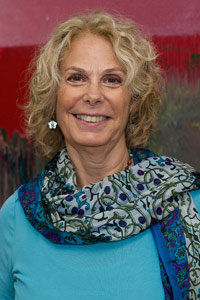 Chandra Kantor is an Advanced Registered Nurse Practitioner and has been in clinical medicine for over 30 years. She obtained her registered nursing degree from the University of NY at Buffalo. In 1980 she completed the ARNP program at the University of Arizona. She focused on women's health until she met Dr. Pierone in 1992 and then started on her path as an HIV/AIDS care specialist in 1992 during the height of the AIDS epidemic. Together they cared for the growing HIV population in St Lucie County, Indian River County and surrounding areas. Chandra was among the early advocates for social change regarding HIV treatment. She is a staff member at Indian River Medical Center, a sub-clinical investigator for many HIV related studies, and also provides medical care to the HIV population at the Indian River County Jail. Her passion for working in the HIV arena has not waivered and she continues to love her life's work. Outside the office, Chandra enjoys yoga, meditation, biking, and her two wonderful grandchildren.
Juliana Stradley - MSN, ARNP, FNP-C, ARTCTC North / South
Born in Texas, Juliana moved to Vero Beach Florida as an infant. She attended Indian River State College and graduated as an RN in 2007. She was awarded two scholarships and was inducted into IRSC Phi Theta Kappa International Honor Society and the 2005-2006 National Dean's List. She graduated from FAU in May 2011 with a Bachelor's and Master's degree in Nursing. Juliana is also certified by the American Association of Nurse Practitioners as a Certified Family Nurse Practitioner (FNP-C). She has volunteered providing health maintenance, counseling, and education in primary and specialty care and the St Lucie County Teen Zone. Juliana was employed by Dr. Pierone in 2011 to work with his HIV/AIDS population at both ARTCTC locations. She has found her experience exciting and challenging, loves the diversity of the patient population, and has expanded her knowledge of immunology and infectious disease over the past two years. Her openness, warmth and genuine smile have built a great bond with her patients. She is a great listener and always has time to lend a compassionate ear. She currently lives near the beach and loves the ocean breezes and calming surf. She is a classically trained violinist, pianist and has a wonderful singing voice. Her hobbies include acrylic painting, attending music concerts, and spending fun time with family, friends and her giant Catahoula dog Walker.
Irene Moore – Office Manager, ARTCTC North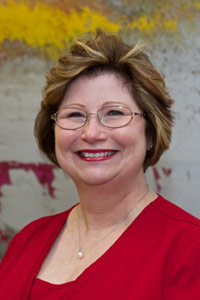 Irene is a native of Vero Beach and started working with ARTCTC in 2000 as an Office Manager. She obtained her 500/501 Pre-and-Post Test Counseling certification early on. She spearheaded the grant process for ARTCTC to become medical providers for the Part C federally funded Ryan White grant. She left in 2004 to work at her husband's busy medical practice but returned in 2007 as a Certified Case Manager. Since then she has successfully obtained several grants including funding from the Allegany Franciscan Ministries, Johns Island Foundation, and the James Frascino Foundation. She is a member of the local Care Network Executive Committee. Since October 2012, Irene has been at the ARTC North location and works on many special projects for Dr. Pierone.She is married and had the adventure of a lifetime in 1999 when she traveled with her husband to Alaska where he became the oldest rookie qualifier at age 63 and the first Florida resident ever to be in the Iditarod race. Her favorite part was interacting with over 50 dogs every day. At home, their dog Max has been a therapy dog at ARTCTC. They have also adopted several retired sled dogs. She is an avid reader, enjoys scrapbooking, and expanding her horizons.
Priscilla Glennon, L.P.N., ARTCTC North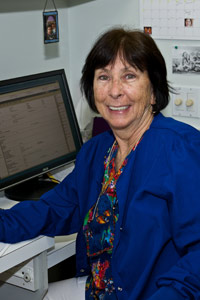 Priscilla, a Boston native, moved to Florida in 1976. She worked as a home health aide and a CNA. In 1993, she graduated for Indian River State College as a Licensed Practical Nurse. Her diverse experience includes work with the VNA, Palm Gardens, Harbor Chase and other long-term care facilities. HIV/AIDS has long been her area of focus. She volunteers with the HIV/AIDS residents at The River House and delivers meals to the needy with the "Feed Everyone" program. Priscilla has worked for Chandra Kantor, A.R.N.P since 2009. She performs all nursing duties at ARTCTC skillfully with a gentle caring warmth and true commitment to enhancing the lives of the patients she assists. In her spare time she enjoys meditation, yoga and floral arranging. She lives with her beautiful Shih Tzu "Prema" (which means love). She has a grown daughter and three precious grandchildren. They live on an island in the Indian Ocean and she loves to visit and shower them with love.
Sandra Du Bose, L.P.N., ARTCTC North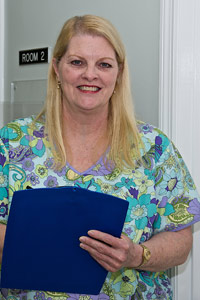 Sandra was born and raised in Vero Beach. She graduated from the Indian River State College LPN program in 1983. Her first nursing job was in urology but she soon had the opportunity to work with teens as a school nurse at Vero Beach High School for three years. She then returned for more than 20 + years back in the urology field at Indian River Urology. In 2011 she changed her focus and was employed as office nurse for Dr Pierone and Juliana Stradley, ARNP, at his newly opened Vero Beach ARTCTC facility where the focus is HIV/ AIDS healthcare. She has broadened her horizons and educates patients and families about the disease, treatments and prevention. She is a soft spoken team player, has a kind word for everyone, and true compassion for all the patients. She and her husband enjoy camping, and spending time with her four children and five grandchildren, who love to play with her dog Kya and various other pets. As a member of the well-known local De Bose jewelry family, she and her family participate in many local events and fund-raisers. Her favorite one is the Annual Christmas Parade.
Mona White, L.P.N. Study Coordinator/Research Director, ARTCTC North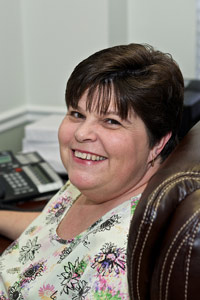 Mona is a New York State native who moved to Vero Beach in 1990. She has worked in a long-term nursing facility as a nursing assistant, a physical therapy assistant, and after becoming a Licensed Practical Nurse in 1985, worked at Corning Hospital, N.Y for eight years on the medical and pediatric floors before moving to Florida. She joined Cardiology and Medicine Associates in 1992 as the L.P.N. for Dr. Pierone and Dr. Cho. In 2000 she transferred to the Treasure Coast Infectious Disease Research as a Study Coordinator for Dr. Pierone. Mona continues to work in the HIV/AIDS field doing research and studies aimed at bringing to market new and improved medical treatment for HIV/AIDS patients. Married with two children, Mona is also a Deacon of First Presbyterian Church, Vero Beach. Hobbies include reading, bowling, traveling to visit family and friends in N.Y., music, and playing Spider Solitaire.
Joanne Giordano, LPN - Research Coordinator, ARTCTC North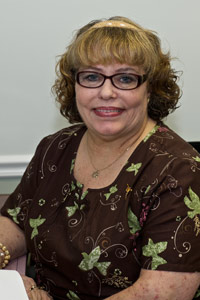 Joanne has been a LPN since 1978. Born in Brooklyn and raised in New Jersey, she moved to Florida in 1991. She worked in the hospital arena, including staff of ICU/ CCU/ PCU in New Jersey and Staffing Coordinator for 120 bed long-term care facility. She worked as an LPN and Office Manager for Thomas Jackson, MD a Vero cardiologist. Then in 1998 she became a staff nurse, EECP Coordinator and diagnostic testing facilitator for Dr. Nancy Cho/ Dr. Gerald Pierone at Cardiology and Medicine Associates. She obtained her Associates Degree in Healthcare Administration from Phoenix University in 2012. She is now part of the team at ARTCTC North in her new role as a Research Study Coordinator with a strong focus on enhancing the lives of those diagnosed with HIV-AIDS. Her vivacious personality and compassionate care is shared with her co-workers as well as the patients. Joanne has 2 grown daughters, 4 grandchildren and three great-grandchildren. She resides in Lakewood Park with her husband and their black lab Bella. Favorite activities include travel, entertaining and spending time with family and friends. She volunteers with the St Lucie County Medical Reserve Corps, has been a Certified Healing Touch Practitioner since 2004, enjoys classic cars and the arts.
Camille Seminara – Front Office Coordinator, ARTCTC North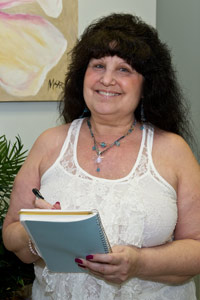 Camille was born in Long Island, NY. Her work experience includes 15 years as senior secretary to the president of a sales company in NY. Soon after moving to Florida in 2006 she was employed by Dr. Pierone as receptionist and scheduler at Cardiology & Medicine Associates. She has remained in his employ since that time and presently works at the ARTCTC North office in the same capacity. She is well versed in many other aspects of the practice and an all-around "gal Friday" for our staff. Her tasks also include interactions with many other providers, pharmaceutical representatives and vendors. Camille handles a multitude of diverse patient problems and questions in person and on the telephone with patience, kindness, compassion and her winning smile. Camille resides with her sweet Shih Tzu Gizmo in Vero Beach. Her personal interests include walking on the beach, family gatherings, and attending plays and concerts, especially Kenny Loggins. She has three wonderful grown children and very close family ties.